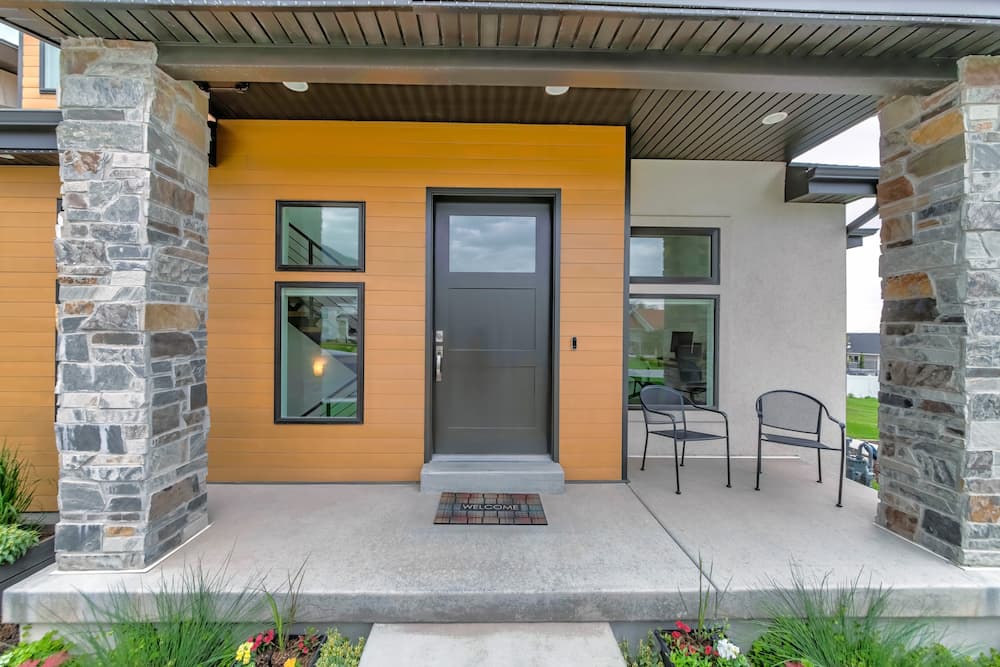 Your front porch is one is of the most visible parts of your home. Visitors, neighbors and anyone passing by your home can see it. A porch that is sinking or uneven can negatively impact the appearance of your home's exterior or even lower its value. Soil displacement is the most common cause of concrete porch sloping or cracking. If the problem is significant enough, your tilted porch could also pose a risk to the foundation or surrounding structures of your home.
Consider Porch Lifting & Leveling for Safety
This threat comes from the rain and snow that can leak down through any existing cracks. An unstable porch area can be very dangerous as gaps and cracks can be significant, increasing the risk of a slip and fall on your property. It is important to fix this kind of concrete problem before it becomes more serious. However, replacing your porch can be costly, time consuming and unsightly. It also renders the front entrance of your home useless, possibly for several days.
Concrete lifting or mudjacking is a quick and relatively inexpensive alternative to traditional replacement.  Our comprehensive time-saving service can repair your porch using a professional-grade grout mixture. This non-invasive technique fuses to the backside of your concrete, restoring cracked concrete slabs and filling in any voids in the soil substrate. The fix is permanent, eliminating the need for cement replacement in the future, which saves you money in both the short term and the long term. In fact, concrete porch lifting & leveling costs an average of 50 percent less than concrete replacement.  Over the lifetime of your home, these saving can really add up. With our expert level service, your porch will be restored in a few hours and ready for use the same day I most cases.
Utah Repair Solutions for Concrete Porches 
If your home's porch is sinking, sagging, cracking, or otherwise degrading, you are not alone. This common problem plagues homeowners throughout the Salt Lake City area, thanks in part to northern Utah's harsh weather and soil conditions. 
If you're worried that porch repair will be time-consuming or costly, you can relax. With porch lifting and leveling from Lift Up Concrete, you can restore your porch to its former glory quickly and affordably. 
We provide a full range of concrete repair services for homeowners and businesses throughout northern Utah. Our proven approach to porch repair is the solution you have been hoping for. 
The Challenge of Sinking Concrete Porches 
Over time, it is not unusual for concrete porches to sink. The weight of these elements can encourage soil subsidence naturally over time. In other cases, poorly prepared soil can be to blame, especially when coupled with northern Utah's wide range of weather conditions. 
Once even small cracks develop, problems tend to escalate quickly. Cracks allow moisture to permeate into the soil. As the dirt dries out – and as it works through multiple freeze and thaw cycles – the underlying soils can erode and heave, causing further movement and crumbling. 
Even something as simple as improper grading or poorly situated gutters and downspouts can hurry the problem along. Before you know it, your porch can become unsightly and, worse, pose a tripping and falling hazard for anyone coming or going from your home. 
Concrete Porch Repair Options 
Residential concrete repair dilemmas rarely pose as much of a challenge as they do with a sinking porch. The weight of the porch makes it uniquely difficult to set right. If you have consulted anyone about the problem already, the chances are good that you've been advised to tear it out and start over. The cost, time and hassle of this approach can be extremely daunting. 
Fortunately, Lift Up Concrete offers a simple, affordable alternative. 
Our concrete porch leveling and lifting services return your porch to grade level. This not only straightens the steps and porch surface but also restores the structural stability. The process is quick and clean and we can level your porch without tearing anything out or disturbing the surrounding yard and landscaping. 
Choosing a Utah Concrete Porch Repair Expert 
When you set out in search of the best porch repair contractor for you, you will undoubtedly find many options to choose from. We have a large base of loyal customers who call on us for all of their concrete lifting and leveling needs. We have established a reputation for excellence, with exceptional workmanship and customer service. 
As a locally owned and operated concrete repair contractor, we have the knowledge and expertise to get the job done for you. Most porch repairs can be completed in only a couple of hours and you'll be able to use your porch right away. 
Contact us now to request a free estimate for concrete porch repair in Ogden, Salt Lake City, or anywhere in northern Utah.