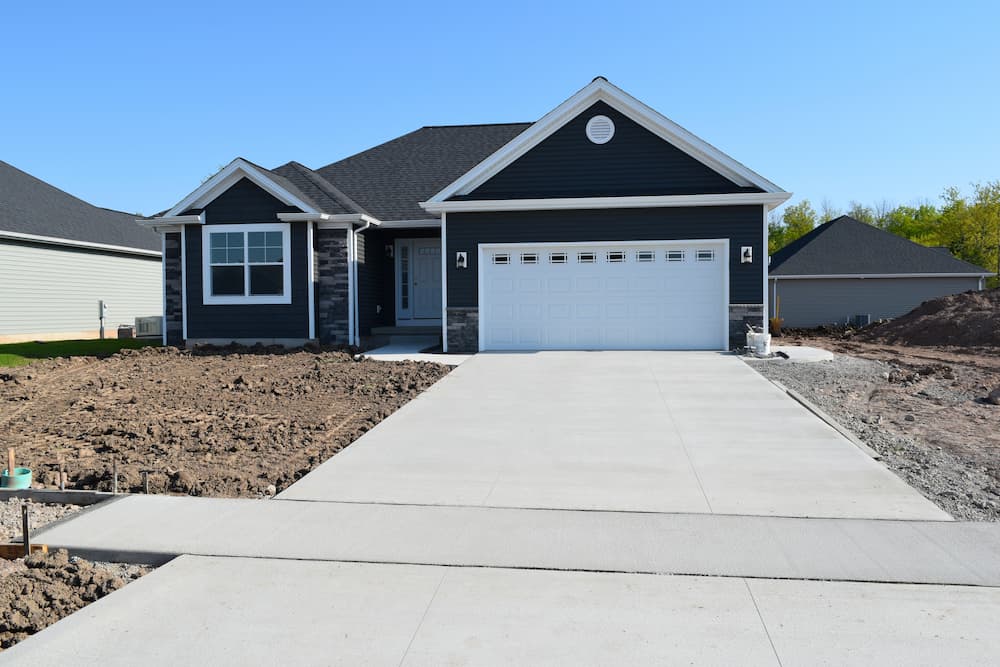 The average U.S. car weighs almost two tons – the equivalent of 4,000 pounds. Each time your car passes over your driveway or remains parked there, this weight is applied directly to the surface concrete and substrate beneath.
When the soil is stable, your concrete driveway can hold this weight without any negative impact. If soil under your driveway is still settling or becomes destabilized by excess water, your driveway could be sinking a little each day. A sinking concrete bed can spell disaster for your driveway and actually exacerbate your settling problem, resulting in tilting slabs and cracks. Due to the size and labor required, replacing a concrete driveway can easily cost you a small fortune. In addition, it doesn't actually get to the root of the problem, which means it's just a matter of time before you have to pay to have your driveway replaced again.
If your concrete settling problem is bad enough, your driveway may actually start to pull away from the concrete inside your garage. This creates a dangerous gap in between the two which can damage your tires when you drive into your garage or even serve as a means for insects and vermin to enter your home. This type of concrete driveway damage is also highly visible to anyone passing by your home and may negatively affect your home's foundation and even its value.
If the settling progresses to a full slant you could also be putting undue stress on your car breaks or risking a serious accident should you forget to engage them one day. Our professional driveway lifting and leveling service can raise your driveway by as much as several inches, if needed, in just a matter of hours. You'll have a smooth, seamless transition from your driveway to your garage –permanently free from cracks and gaps.
Lifting Leveling & Repair of Concrete Driveways in Utah 
In Ogden, Salt Lake City, and throughout northern Utah, concrete driveways take a beating. 
Cracking, sinking, and shifting can, at best, detract from the value and external appearance of your home. At worst, these problems can pose a hazard and even make it difficult or impossible to use the driveway. 
The good news is that you don't have to tear out and replace your driveway to resolve these challenges. With concrete driveway repair from Lift Up Concrete, you can restore your drive's surface quickly and affordably – with exceptional, long-lasting results. 
Why Concrete Driveway Repair Is Important 
Our extreme weather conditions and the continuous weight of vehicles coming and going can add up, taking a toll on concrete surfaces. Cracks can develop, allowing moisture to seep in and permeate the soil below. If the underlying soil is unstable or riddled with voids or air gaps, the problems can quickly compound. The freezing and thawing cycle creates even greater instability. 
As a result of these factors, portions of the concrete can sink and buckle, creating uneven surfaces that pose a variety of risks. In addition to being unsightly, driveway cracks and gaps can pose a tripping hazard and make it difficult to drive your vehicle over. 
Some options for driveway repair include concrete resurfacing, replacement and lifting or leveling. 
Why Choose Concrete Driveway Leveling 
Although resurfacing and replacing concrete drives are both viable options for addressing cracking and crumbling, neither of these options alone truly addresses the underlying causes of the problem. Mudjacking – the process used for driveway leveling and lifting – addresses the root of the problem as well as the unsightly and unsafe results. 
Even better, lifting and leveling your driveway is quick and affordable, requiring minimal hassle and disruption of your life and property. 
The Lift Up Concrete team begins by drilling small holes across the surface of the driveway. Through these tiny openings – and along the edges of the concrete, if appropriate — we pump in a specialized concrete slurry. This surprisingly strong and long-lasting substance lifts the concrete, leveling the surface and restoring integrity and appearance. At the same time, the concrete slurry fills in voids in the underlying soil, creating long-term stability from below. 
This process typically costs only a fraction of what driveway replacement would cost. The repair can be completed in only an hour or two and, in most cases, you can resume normal use of your drive the same day. 
Your Go-To Utah Concrete Driveway Repair Expert 
Lift Up Concrete provides a full range of concrete repair services for homeowners and businesses in Ogden, Salt Lake City and the surrounding communities of northern Utah. Our depth of knowledge is second-to-none. We have a long list of satisfied customers, who have helped us develop a reputation for being one of the best concrete repair companies in Utah.  
Contact us today to request a free estimate and to learn more about how we can help you with our affordable concrete driveway repair solutions.